Your Home's central heating and hot water are usually heated by a combi boiler and will work daily without any issues or failure. Inside the popular combi boiler, we have lots of working parts.
All work together to make the gas burner and heat the system as needed. If just one of these parts fails it can have a knock-on effect. That is when you will need to make the call to us and have our professional help to find the issue safely and in good time.
In order to get your boiler part repaired and working. We will assist you in your home or in your workplace and commercial unit premises.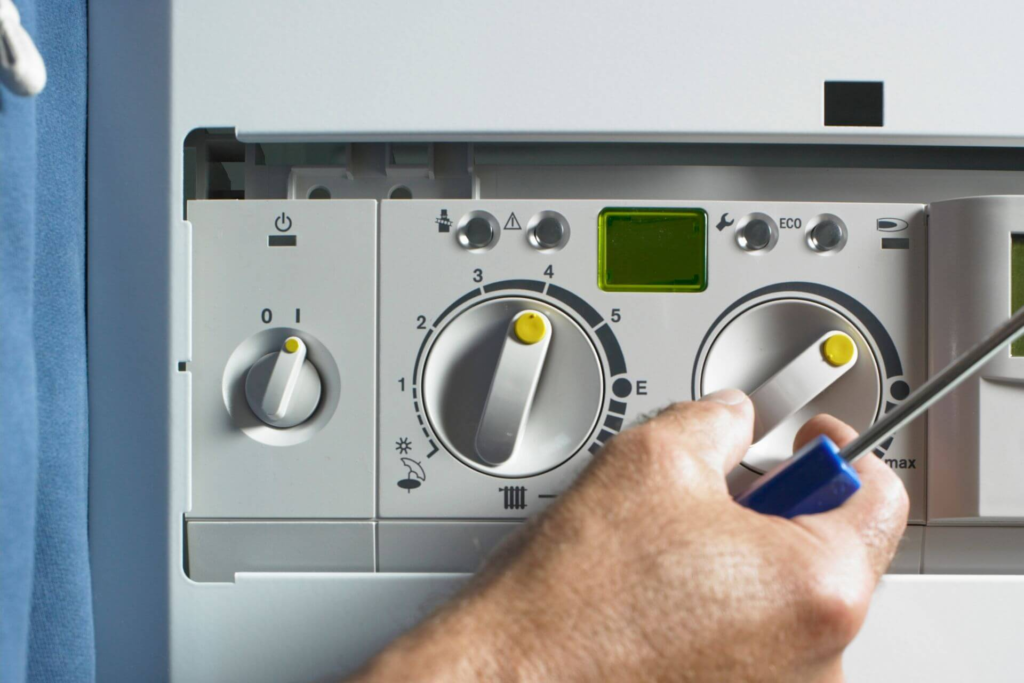 1- THE BOILER LIGHT IS ON & NO HOT WATER OR CENTRAL HEATING
Common Boiler Faults are electric power light is on at the boiler and yet you can not get the boiler to work as normal. You can have your central heating pressure gauge in the correct position, between 1 bar and 1.5 bar.
This is usually shown as a good position and will be green in color behind the gauge needle. When you run your hot water tap, the boiler will not ignite the pilot light resulting in no hot water. you get no hot water.
Also when you ask the boiler to fire ignition for the central heating usually with a room thermostat or timer. You will also see no flame for ignition and no central heating.
2- YOUR BOILER HAS WATER LEAKING FROM UNDERNEATH
We very often get a call to find the cause of the water leaking from many different brands of the combi boiler, these include, Worcester combi boiler water leaking from the casing to Glow-Worm, Baxi, Ideal, and Vaillant most commonly seem to get the same issue.
Often caused by corrosion of the internal system pipework or seals. Maybe even due to the demands of the boiler being too great and it failing inside.
Simply prevent water damage by placing a large bowl underneath and drying off any pooling water. And call our mobile boiler engineer telling him you need priority fault finding water leak from inside my boiler.
3- YOU HAVE WATER RUNNING OUTSIDE THE HOUSE
You can sometimes have water running from outside the home or building behind the boiler and from a small copper pipe. This copper pipework you can see outside is the safety pipe for pressure relief.
Inside the boiler, we have a safety system. Which will open when the pressure inside your boiler has gone over 3 bar pressure. This is when you notice the water outside.
What you need to do is call us and we will send you a same-day boiler repair engineer to fix this for you.
Top 5 Most Common Boiler Faults
4- EXPANSION VESSEL HAS FAILED INSIDE
Your boiler will work as normal giving you hot water and central heating as usual. Only now do you notice you will need to top up the water pressure gauge more often or even daily.
Eventually, you will have to do this twice a day or more. What has happened inside the combi boiler expansion vessel?
There is a steel tank with a high-pressure rubber partition inside, which has been inflated with air to 1. bar pressure. This can split over time allowing water inside the half with the air pressure in it to fill up with water.
5- HOT WATER RUNS COLD AND THEN RETURNS HOT – ON / OFF
Usually, when you are using your shower or bath you will notice the water runs great at first and then it goes warm or cold. Then it returns to Hot Water again.
And it will do this more often the longer it is left. Inside the boiler, you will have thin parts that will block up with debris and central heating system dirt can block this up.
What you need to do is call our boiler service and repair engineer asking for a same-day repair if possible.